Shaving cream: the ultimate smooth operator

Not a chance you haven't seen it: the hipster beard. The beard's popularity increased immensely the past few years. But not all men fancy a hairy face.
So those who could resist the trend (or just had no other option) simply choose their own path. Clean-shaven, a nonchalant stubble or tightly trimmed. One way or the other, every man needs to shave once in a while. To trim the beard, to keep it neat or just to shave other spots than the face. Yes, let's just put it out there.
But did you know that shaving is very harsh to the skin? You know the stories of those razor brands. How 'beautiful' and 'smooth' your skin will be after using that particular razor blade.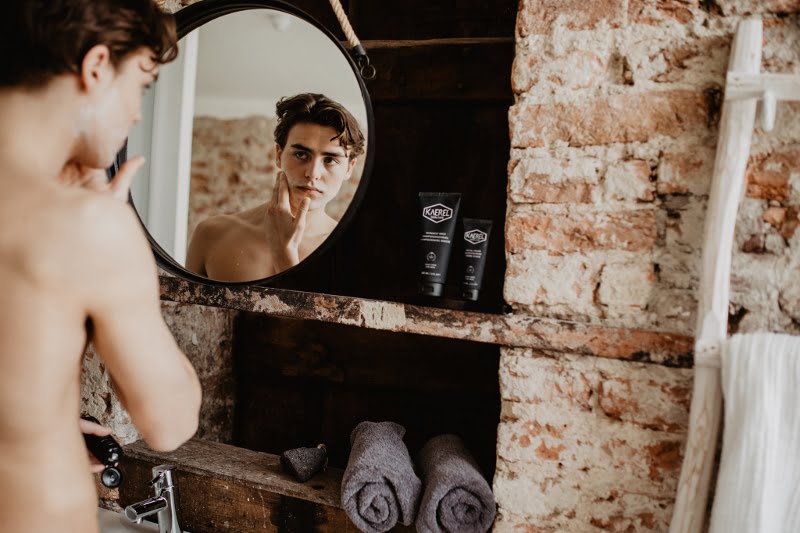 But you never hear the stories about shaving also removes the protective layer of the skin. Not to mention the bumps and lumps, which occasionally meet the sharpness of a razor blade. So smooth, yes, but also slightly injured. As a result, 40% of men have skin irritation caused by shaving.
To make shaving more skin friendly, we have a few great tips for you:
1. Make sure the skin is clean. This decreases the chance of inflammation
2. Use a sharp and squeaky-clean razor
3. Give your skin a rest by skipping the shaving every other day
4. Use a good shaving cream
And yes, Kaerel's shaving cream is just what you need. It's 100% natural so no need to worry about any weird ingredients. It's not a foam, but a cream. And a cream doesn't foam. Maybe that takes some getting used to, but you'll love it because your skin loves it. If you like to see the cream on your face so you know what part you still need to shave, we recommend you to put the cream on damp skin. A big plus is that our shaving cream is based on oil and thus very soothing for the skin. The oil makes the skin and hair soft, making it easier to shave. Also, it seals the skin with a protective layer, protecting it from the sharp razor. Shaving cream is shaving cream, so it does also work on every hairy part. No, Kaerel does not make a fuss about anything!